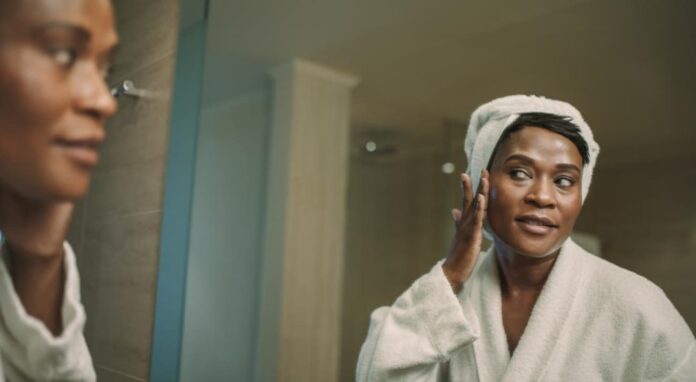 Features
3rd party lab tested
Offers a 60-day return policy
Free products with orders over $15
Free Shipping on all orders over 5$ in the U.S.
Pimples and bumps on the face are a common sight. The severity can range from mild to
severe. The mild ones may be as mild as going unnoticeable, while the severe ones bring up a reddish appearance. Irrespective of the severity, the condition is known as acne. For long, acne has been the source of constant annoyance for many people.
It is a common skin condition. An oily skin and a damp region promoting bacterial growth are contributing factors of acne. The skin consists of hair follicles. Dead skin cells and oil can jam these hair follicles, leading to acne. There are several acne treatments available today. Some are effective, while some are not.
What Causes Acne?
Sebocytes are the cells responsible for producing the oily and waxy sebum. Sebum is the
substance that protects the skin from all the dirt and pollution.
However, when it is overproduced, it mixes with the dead skins, pollutants and dirt. These get trapped within pores. These clogged pores lead to acne.
Can CBD Treat Acne?
Cannabidiol, commonly known as CBD, is derived from the Cannabis Sativa, which is a herb. Cannabis Sativa has over 100 compounds, of which the CBD is the most effective. Studies have proven that CBD has several health benefits; one is reducing the severity of acne. Reports have even confirmed this.
CBD can help in regulating the overproduction of sebum. Several studies have demonstrated its anti-inflammatory properties which can help in calming the skin by reducing the inflammation caused by acne.
Must Read: Does CBD Oil Relieve Chronic Pain?
Anti-inflammatory properties of CBD:
Generally, inflammation occurs as a signal to our immune system. It is a signalling factor to let our immune system know of our body's new invaders, like bacteria and viruses. Inflammation happens because of cytokines and proteins produced by our immune system to address the injury or infection.
Eventually, our body will begin the healing process. But, if the inflammation stays for long, that is the issue of concern. Bacteria build-up and skin-related inflammation are two of the main factors causing acne.
Acne is a common problem everyone encounters, and the anti-inflammatory properties of
Cannabidiol help resolve the issue. CBD is therapeutic not only for acne but also for any
inflammation issue on the skin.
Acne signs differ with the severity of your skin health condition. Some of the common
symptoms are whiteheads, blackheads, bumps, pimples, lumps, and cystic lesions. These are the varied and modified inflammation, of course.
Research studies say that Cannabidiol serves as an effective potential treatment for any
condition characterized by inflammation. Improved skin health results made researchers conclude that CBD is non-invasive and an effective alternative to treat skin inflammation.
As with any health issue, it is equally important to consult with your physician, dermatologist here in this case, before using CBD products on your skin.
However, always consult a dermatologist even though CBD products have proven to be non-toxic, safe, and hypoallergenic. Cannabidiol helps reduce inflammation associated with various conditions such as sports injuries, acne, migraine headache, etc.
So What Does It Mean?
Now you know for sure that the anti-inflammatory properties of CBD will help you cure acne. Here is the hard part when it comes to choosing the right dosage and the right product. First, determine the dosage of CBD for treating an inflammatory condition.
Zero effects on excess dosage, but consult your physician to be on the safer side. There is absolutely no risk involved of these accumulating on your parts of the body, concerning the excess dosage. For confirmation, visit the manufacturer's website. Ensure that you note the product label for the amount of dosage the product has in it.
Finding the right CBD product with appropriate potency purely depends on your health
condition. It is wise to start with the suggested dose on the product label and slowly increase based on your requirement.
We have numerous types of products out there in the market. We have sprays, roll-ons, creams, gels, body oils, lotion, and transdermal patches. Choose products based on your needs and purpose. Be clear about how you intend a CBD product to function on your body.
Most importantly, beware of the triggering factors of acne. Like, hormonal changes,
medications, diet, and stress. Stay clear about acne myths like dirty skin causes acne, whereas rubbing your skin too hard to make it clean is unhealthy.
There are still more factors causing acne. Note the changes and identify the cause. Use the appropriate CBD product to heal your acne problem. Nevertheless, use CBD products besides your healthy skin routine.
Must Read: What Are The Top CBD Oils? The Best That You Can Buy in 2021
The Best CBD Products for Acne
Research into CBD products has been scaled up quite a bit over the last few years. The reason behind this is the number of uses that CBD has shown. However, there is not much research into the specific actions of CBD into any disease.
Some of the products which can help you with reducing your acne are:
1. CBD Body Lotion
CBD Body lotion is a topical preparation which contains 330 milligrams of CBD in every bottle. This topical preparation is non-greasy and non-fatty, just like all the quality body lotions available in the market.
The CBD Body Lotion manufacturer recommends using the lotion before sleeping because all the body lotion ingredients can show their soothing effects on the body and mind while you are sleeping. The manufacturers believe that this is a better acne treatment.
2. cbdMD Gummies + Vit C
Gummies are one fun way of taking care of your Acne. Each gummy of the cbdMD gummies has about 25 mg of CBD and 10 mg of Vitamin C. Vitamin C has been added to the gummies due to the remarkable anti-inflammation properties it brings to the table.
The gummies are vegan, free of THC and gluten and are made in the USA. The gummies don't only help reduce acne but also help other skin issues but should be taken with care considering they contain CBD.
3. Liftmode Hemp – Collagen CBD Gummies
These gummies are made from cold-water fish and their collagen derivatives. They also offer the same therapeutic effects as other CBD gummies, but the collagen is beneficial in the clearing up of skin and its pores.
This product is free from THC. People who have medical conditions are under 18 or pregnant should not take this product.
4. Lazarus Naturals Soothing CBD Balm:
This CBD Balm is another option of using CBD to treat acne topically. The balm contains mango butter, beeswax and organic oils along with CBD.
The balm with its properties is effective against inflammation and has full-spectrum CBD, which includes THC. The company ensures the safety of the product along with efficacy with the help of third-party testers.
CBD Oils for Acne – Best ways to use
There are many ways that you can use the CBD oil to your benefit, especially in the case of
Acne. Some of the best practices are:
1. Capsules
These capsules are like any other capsules and are quite useful in delivering the CBD oil to its point of action. However, the best part is if you are vegetarian, you can take the capsules without any hesitation.
2. Topicals:
The products applied over the skin are known as topicals, and there is a wide range of topicals available in CBD oil preparations. These preparations are easily absorbed by the skin due to the high permeability and start accumulating in the sebaceous glands present under the skin. Topical preparations include lotions, balms, creams and similar products.
3. Vaping:
Vaping a drug makes it readily available in the body and shows its effects immediately. But for this, you need a high-quality vaping machine. These machines vaporize the drug rather than burning it, which would otherwise cause toxins to spread through your body.
4. Tinctures:
Tinctures are another way of administration which show immediate effect due to the rapid
absorption from below the tongue. In tinctures, you place a drop of the preparation under the tongue using a pipette, and the drug is absorbed from there. There are a variety of practices available which come in flavours as per your taste.
5. Edibles:
If you don't wish to use the CBD products in any of the above ways, there are much simpler FMCG products available, including the CBD in your food, snacks and drinks. You can even bake your delicious recipes to take in your CBD but remember, always dose carefully or it can hurt your body.
Read More: Does CBD Help With Back Pain?
Side Effects and Drawbacks of CBD for Acne
CBD for health and skincare may be the miracle discovery of the modern world, but along with the benefits comes a few drawbacks and side effects. CBD has many anti-inflammatory properties which may help in preventing breakouts.
A recent study found that the side effects for CBD were fatigue, diarrhoea and change of appetite. However, these side effects are for people who consume CBD and not apply it to their skin.
The most common side effect, for skin-related issues and especially with acne users, is skin
allergies. Treating acne with CBD depends primarily on the user and what kind of acne the user is having.
Users may sometimes experience mild irritation. Hence, it is recommended to always do a
patch test, before trying the product on the infected area. Read the labels carefully to see if the user is allergic to any of the ingredients.
CBD for acne is a revolutionizing organic product, but there is a lack of direct evidence. Hence, if the user is suffering from acne, CBD products can be tried but with caution and immediate consultation with a doctor on extreme allergic reactions.
Coming to the drawbacks for CBD in the treatment of acne, the user must make sure that the product is high-quality and is manufactured from an independent laboratory of reputable brands. Many companies have been selling CBD products, with fewer CBD quantities, than promised on the label. This lowers the products working capacity and does not deliver the desired results.
Much research on CBD skin care products shows that some added THC, which is an active
ingredient in marijuana, causes people to get intoxicated. Now, the user can't get intoxicated on CBD skincare application topically, but the user must read the ingredients list and purchase products that do not have THC.
Another mixing ingredient plants and many manufacturers mix hemp plants in the development, which may cause an allergic reaction. The ultimate solution to these drawbacks is, making sure the user buys the products from a reputed brand or company, reading the list of ingredients to make sure there is no added impurity and finally performing a patch test and ruling out any allergies.
Must Read: ProDentim Review: where to buy prodentim?
CBD for acne: Final Thoughts
The world of CBD is a newfound craze, and like all new found discoveries, it has its benefits and drawbacks. CBD is said to have many positive health benefits for users who have consumed and applied it topically.
The inflammatory properties of CBD make it an attractive solution for acne problems. But the bottom line is that the product's effectiveness depends on the type of acne the user is suffering from.
In case of an allergic reaction, please make sure to consult with a doctor. The market for CBD is lucrative and makes vast profits, and it is an organic invention and definitely something that can be tried and experienced.
But to conclude saying that CBD is the ultimate solution for acne requires much more research and development. Until then, CBD is an existing new invention that can indeed be tried by interested users and even apprehensive ones.
Features
3rd party lab tested
Offers a 60-day return policy
Free products with orders over $15
Free Shipping on all orders over 5$ in the U.S.