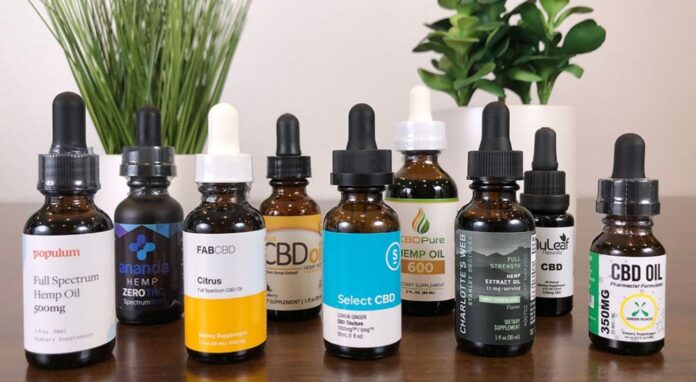 We are once again here with the Top CBD oils list just for you. So CBD can be seen everywhere right now. And there are so many reasons for it.  The product is safe for usage and can help in treating and managing several conditions. But another fact is that there are so many companies that it's normal to get confused with it. You can be a beginner or might have some experience with CBD; we have all the information that you need.
We shall demystify the labels and give you clarification on some debate points. There will also be some scientific information regarding the benefits of CBD. And we shall help you to avoid some fake or companies that sell low-quality CBD oils.
Below we shall give you the information on Top CBD oils in 2020.
1. Kanibi
This is a company that's Utah based and top on our list. The brand is on the mission of creating some great quality CBD products that are science-based. The CBD is sourced from hemp grown organically in Kentucky. The products taste good, they offer free shipping and have a 30-day return policy. So, one can't go wrong while working with this company.
Source and the type of CBD oil: Isolate and full spectrum are sourced from domestically and organically sourced hemp.
Cost: $ 0.09/mg of CBD.
Brand Transparency: Each CBD product is post formulated and doubles third-party tested. You also get lab reports with the batch number on their product page. This is the only brand that we have seen yet, that gets the product tested twice from different labs. It also increases the brand reliability ten folds. You will exactly know what is present in the CBD oil that you purchased.
Customer support: All of the inquiries do get a prompt and helpful response. They also offer free shipping with a 30-day return policy.
Product Variety: There are full-spectrum CBD oils that come with high potency, you can choose the product in two flavors. There is also CBD topical that also has gained popularity. 
Pros:
CBD oil is of superior quality.
The product is a double third party tested.
They are excellent in taste.
Cons:
1. The product range can be enhanced.
Must Read: Elixinol: Is it Legit?
2. Spruce CBD
Now this brand makes sure that product quality is their top priority. And they have gone boldly ahead with the thought as they project the product without any flavor. The company claims that bitter CBD oil is effective. And the customers do seem to agree as to the website is filled with positive reviews. The company is USA based and they ship to all of the 50 states. In case you don't like the plain natural flavor of CBD in general, we won't recommend this one. But in case you do enjoy it, this is one of the best brands to buy your CBD oil from.
Source and the type of CBD oil: They are offering organic hemp seed oil and CBD oil that's full spectrum.
Cost: $ 0.11/ mg CBD.
Brand Transparency: The products are third party tested. They are consistent with the lab results. They are also posted formulation tested.
Customer support: You getperfect customer services and prompt.
Product Variety: The CBD oil is available in 2 potencies. You can also try their Pet CBD and CBD topical.
Pros:
CBD oil is of high concentration.
The CD oil is organic, vegan, and Gluten-free.
They ship to all of the 50 states in the USA.
Cons:
1. Website navigation needs improvement.
2. There are no flavor varieties.
Related: Why Is CBD So Expensive?
3. Joy Organics
This is a comparatively new brand when it comes to the CBD world. But they have made an amazing reputation in the market with high-quality products. This is a family-run company. They can offer you THC free CBD oil that tastes great as well. Also, you can expect some amazing customer care service. The CBD oil is completely organic, so you know that you are getting the purest product available in the market.
Source and the type of CBD oil: They offer CBD oil that's a broad spectrum. It's organic and is domestic sourced hemp.
Cost: $ 0.09/mg of CBD
Brand Transparency: Each of the batches gets third-party lab tested. Some results are listed with the batch number on the website. The report also gives information on containments like pesticides and residual solvents.
Customer support: They have an excellent customer care service. You get an immediate response to the inquiry. Also the customers have the benefit of a 30-day return policy.  
Product Variety: The CBD oil comes in three flavors and four potencies. You can also try edibles, soft-gels, vape, pet products, and topical creams.
Pros:
One of the best customer services we have seen.
Great tasting CBD oils.
Different potency options are available.
Cons:
The company is new.
4. Fab:
From the beginning itself, we have been a fan of Fab. This is a company that's based in Florida. They make some amazing and high-quality CBD products. They source hemp that is Colorado grown and completely organic. Also, flawless customer care makes them perfect. They have CBD oil just slightly expensive when compared to other brands, but the high quality does make up for everything else.
Source and the type of CBD oil: They offer organic, full-spectrum, and domestically sourced hemp.
Cost: $ 0.11/ mg of CBD oil.
Brand Transparency: You will be able to find the third party lab result on the website for most of the products. They have one lab test for tinctures. This shows the potency and containment information. Customer care had said that this same CBD oil is used for making other products as well. But because the potencies can vary, it would have been better if they showed the reports for each of the products.
Customer support: They excel in providing quality customer service. They also have a 30-day return policy and are responsive to customer inquiries. You can get in touch with them through their Facebook page as well.
Product Variety: The CBD oil is available in three potencies and five different flavors. We highly recommend the Vanilla variant.  You can also try the topical and gummies as its pretty good. The gummies are also a great way of adding CBD in known dosage and are tasty treats.
Pros:
There are many flavor options available.
Customer care is great.
They have a return policy that increases brand reliability.
Cons:
You get lab test information for just one tincture.
5. Charlotte's Web
This is certainly one of the most well known CBD brands that you can find.  And this is just not all hype. The company has been in the industry for the mission of removing the taboo that goes around CBD products.  They have therefore raised the bar for company transparency. They only produce organic products. And this is backed up with a stronger return policy as well.
Source and the type of CBD oil: Usually full-spectrum CBD oil that's from Colorado and organically sourced.
Cost: $ 0.09/mg of CBD
Brand Transparency: This is where the brand can be called the best in the industry. They test each batch in the CBD product range.  The test is done for the CBD potency and probable contaminants. In case you want to see their lab reports you have to get in touch with their customer support. In a situation where you have purchased the product already, you can take a look at the batch number and easily find the product lab report from the database.
Customer support: This is one thing that can be improved to some extent.  We had found that it might require some tries before you can get a response. Although the representatives have always been helpful, thorough, and friendly, so no complains there.
Product Variety: The tinctures are available in 4 different potencies and 4 flavors. You can also try the isolate one in case you want to completely avoid THC. Their pet products, capsules, topical, and gummies are also worth the money.
Pros:
Well known and trusted brand.
They have a good return policy.
The products are reasonably priced.
Cons:
The website can be a bit slow.
The customer service can be improved.
Related- Does CBD Get You High And How Does It Make You Feel?
Top CBD Oil: What is the Future of CBD Oils?
Today, as we talk there are dozens of researches being done on CBD uses. Although, results are yet to be seen, CBD does seem to be very promising. All of this can make sure that CBD can bring a huge change in the lives of people. As with any other changes that you make in your health routine, it's vital that you are talking to the doctor before you take CBD oil for any health condition. This is crucial in case you are on medication as there can be the interaction of CBD oil.
The best part about good quality CBD oil is that it is a natural product. So the extreme side effects that you might have of medications, is not going to happen with this. If you are new to CBD oil, we always recommend starting from the lowest potencies, and then you can slowly move your way up.
Hopefully, this detailed guide will help you in choosing the right CBD oil and from the best brands. Let us know which one of these have you tried before. Also if you have any questions feel free to write in the comment section below. We are more than happy to help you out!