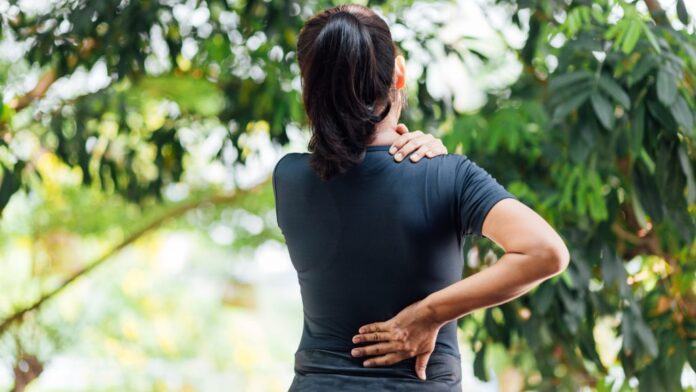 Essential Recovery Tincture
Wide range of high quality hemp products
Affordable prices
Enjoy FREE SHIPPING on ALL orders! (U.S Only)
CBD oil has been known for several biological benefits, but does CBD help with back pain? It is free from any kind of intoxicating effects and therefore won't produce the feeling of being high. Therefore can be used by people of any age group.
CBD interacts with several signaling pathways and the body receptors that include serotonin receptors, TRPV-1, and GPR555 receptors. The biological CBD oil properties can be attributed to all of these interactions.
CBD has been known for helping with several disorders that include PTSD, heart disease, anxiety, cancer, migraine, insomnia, epilepsy, rheumatoid arthritis, multiple sclerosis, and fibromyalgia.
CBD oil has anti-epileptic, anti-inflammatory, muscle relaxant, and anti-depressant properties. CBD also helps attenuate neuropathic pains. Therefore, all of these properties can be responsible for alleviating back pain that occurs because of varied reasons without experiencing any side effects.
CBD Research Overview:
There is a lot more research needed for making sure that CBD can be safely used for offering relief from back pain. But some show that cannabinoids have analgesic and anti-inflammatory properties. 
When CBD has interacted with the ECS (endocannabinoid system), the internal system regulating the body, it can enhance the anandamide signaling, the compound that regulates pain and has been also associated with feeling happy and overall wellbeing. When we can prevent its absorption CBD tends to push the excess amounts in the bloodstream, this lowers the pain throughout our body. 
CBD also has been known for demonstrating the abilities in pain reduction by TRPV1 receptors in our body that are responsible for controlling functions like pain awareness and inflammation.
Other Vital Studies
Another study that had been published in the year 2015 had found that CBD also works as an inhibitor for glutamate levels in our spinal cord and brain. This has been associated with the enhanced sensations of transmissions linked with pain. Some other past research also said that CBD could have worked as an effective treatment for an extremely detrimental condition that has been known for causing pains. This included conditions like multiple sclerosis as well as cancer pain that stays intractable. 
Then there was also a 2012 study that had been conducted over lab mice that said that CBD was targeting the glycine receptors that were vital for targeting pain processing of the spine, and there was no analgesic tolerance noticed. 
There are no specific answers yet, but one of the studies done on animals in 2016 that had been published in the European Journal of Pain had said that topical applications can be show higher effectiveness than the usual sublingual method.
Does CBD help with Back Pain?
We all are already aware of the several medical benefits that CDB is being used for. But there are some specific properties linked with CBD that can help you in removing the cause of back pain that you might have. This in turn will help you get rid of the back pain as well. One of the best features of CBD is that there are no extreme side effects caused that are seen with western medicine when used for the long term.
Must Read: Does CBD Oil Relieve Chronic Pain?
1. Analgesic properties of CBD:
Normally, we suffer from back pain that is characterized by burning, dull, or stabbing pain that can be present in the entire back or a specific area of the back. Now this pain can be there for a few hours or even years. Then there is another type of back pain that's neuropathic and the cause remains unknown for the most part. But when you are experiencing constant pain it certainly disrupts the usual routine you might have. 
For making sure that you will be avoiding any such issues of western medicine, there are some natural alternatives that you can try and might end up as the best solution for you. CBD can easily help in attenuating inflammatory or neuropathic pain. There had been some studies carried over animals and has been indicating positive results. As we mentioned earlier that there won't be an analgesic tolerance you can get relief from back pain pretty quickly. 
Then CBD has also been well known for offering great relief from the pain caused due to arthritis. This is the pain that is usually seen in bone joints and your backbone can certainly get affected by it. Here one good way if you don't want to consume CBD oil is the use of CBD topical. This method has shown improvements in animals that suffered from monoarthritis.
2. Anti-Inflammatory Properties of CBD:
 A lot of people that suffer from back pain go for any type of pain killer as it tends to provide faster relief from the pain. These medicines are available easily and not that expensive. It might be alright to go for it if you usually don't suffer from back pain. But in case this is chronic pain taking a lot of pain killers will cause side effects like blood thinning, stomach burn or ulcers, dizziness, and high blood pressure too. For pain management, the best idea will be to avoid any such medicines. 
The alternative that you have for it is taking high-quality CBD oil as this also has great anti-inflammatory properties. The studies have indicated that CBD also is capable of suppressing chronic inflammation. CBD will be reducing the mediators' production responsible for inflammation. 
Again, you can get topical gel containing CBD that will also help reduce back pain if it's being caused by body inflammation. Therefore, this will be a great alternative in case people aren't ready for sublingual consumption of CBD oil yet or feel scared initially.
3. CBD protects from IDD:
Intervertebral Disc Degeneration also called IDD is one the main contributors for people that suffer from a lot of back pain. Usually, this kind of pain is experienced in an individual's lower back. There was a study carried forward on rats that showed that CBD was able to protect them from the lesions that are known for inducing IDD. 
It is also said that the main reason for this can be anti-inflammatory or anti-hyperalgesic CBD properties.  CBD might also block many pro-inflammatory mediators that cause migration of neutrophils. This will be resulting in inflammation reduction and the modulation of immune response that can help protect you from disc- degeneration. 
Is It Safe?
For the most part, you won't be facing any issues with consuming CBD in the labeled dosage. Some studies say CBD is a lot safer than the drugs that are used for treating some specific conditions like epilepsy. 
But certainly, this is the part that still needs a lot more research. The main reason is the medications and drug interactions that are seen to be occurring with CBD. So in case you aren't sure about this, it will be best to talk to your doctor for an expert opinion and as they are better aware of your health condition and medication you are on. 
Precautions with CBD Oil:
The best part about CBD oil is that you won't be facing any side effects with it. It is completely safe for being used for years. But you need to make sure that you are only consuming CBD oil of very high quality and that it should be pure. 
One of the most common side effects that are observed is dry mouth. You can overcome this by just having a lot more water than what you usually have. 
Then some people can experience low BP, drowsiness, dizziness, or changes in appetite. Again this is something that you will notice if you are taking over 1500 mg of CBD each day. 
Just make sure that you are buying CBD oil from a reputed company and the oil is extracted with appropriate methods. People usually tend to get attracted to cheaper alternatives for low quality that are even fake and might lead to side effects and toxicity. 
Who should not use CBD oil?
Pregnant or breastfeeding women shouldn't be using CBD oil. The impact of CBD hasn't been much studied on infants, so it's better to be on the safer side and not using it if you're under the age of 18.
Also, before you begin with taking CBD for back pain take advice from experts so that there are no drug interactions noticed. This way you will also be able to get a clear idea of the right dosage for you. 
Make sure you are reading the labels well and are aware of the potency and concentrations. 
Read More: Detailed Review On Petly CBD!
Final Thoughts On Does CBD Help With Back Pain?
In the present times, having back pain has become a norm as it's also a result of inactivity, wrong posture, and also unhealthy dietary habits. Then there can also be other varied causes for it that include systematic disorders and injuries. CBD can certainly help you in great relief from back pain if your back pain is due to the causes that we mentioned above. 
ARTHRITIS ACHES AND PAIN RELIEF CREAM
Wide range of high quality hemp products
Affordable price
Free Ground Shipping within the U.S. for all orders over $74.00