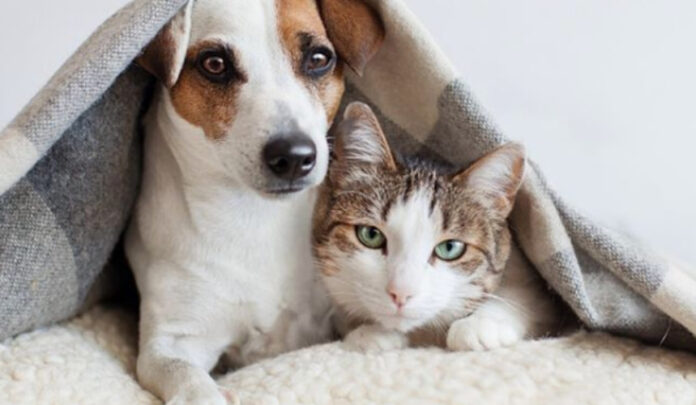 Features
Good cbd oil for pets
Tasty chews
Shipping Options
Great customer service
While we can see several companies today offering CBD products that are specially made for pets around the world, there is still a lack of regulations in this industry. This has lead to a lot of companies selling products that aren't complying with quality standards and can have low or cannabinoids that are non-active. Petly CBD is certainly one of the exceptions here as they offer value to the clients and formulate the best and effective CBD products that you see online. 
Company Details:
Petly CBD is not one of those brands that manufacture CBD products for your pets like a secondary product. The complete catalog is filled with CBD extracts that are specifically formulated for cats and dogs. The founders of the company believe in research and science that goes behind CBD and how it interacts with your pet's endocannabinoid system. 
The company produces the products based on scientific research and the products go through strict tests that let you know the precise amounts of terpenes and cannabinoids that are present. And that's not it; the founders also consider your beloved pets as part of the family and therefore are actively involved with projects and initiatives that are contributing to the health of animals from across the world. 
Must Read: How Long Does CBD Stay In Your System?
Petly CBD Product List
The product range is broadly divided into three categories:
CBD Drops.

CBD Treats.

Company Merchandise.
While pure CBD oil has been known for being the best method of administration for both pets and humans, it's still not easy to administer to your hyperactive cats or dogs. Therefore for pet owners, one of the simpler ways will be CBD treats. Some of their best products include:
1. Pet Hemp CBD oil for Dogs:
Petly offers quality CBD oil for dogs and is suitable for dogs of all breeds. There are no preservatives or additives and it's derived from the hemp plant that's organically grown. Unlike a lot of CBD oil choices, this one is very affordable and is available in varied strengths. You also get a money-back guarantee.
2. Dog Chews:
Your dog's dental hygiene is also crucial for making sure it's well maintained and healthy all year round. Your pets also deserve proper hygiene and this is why dog chews are a good option to go for. However, this is not everything about chews but a product that's of top quality as well.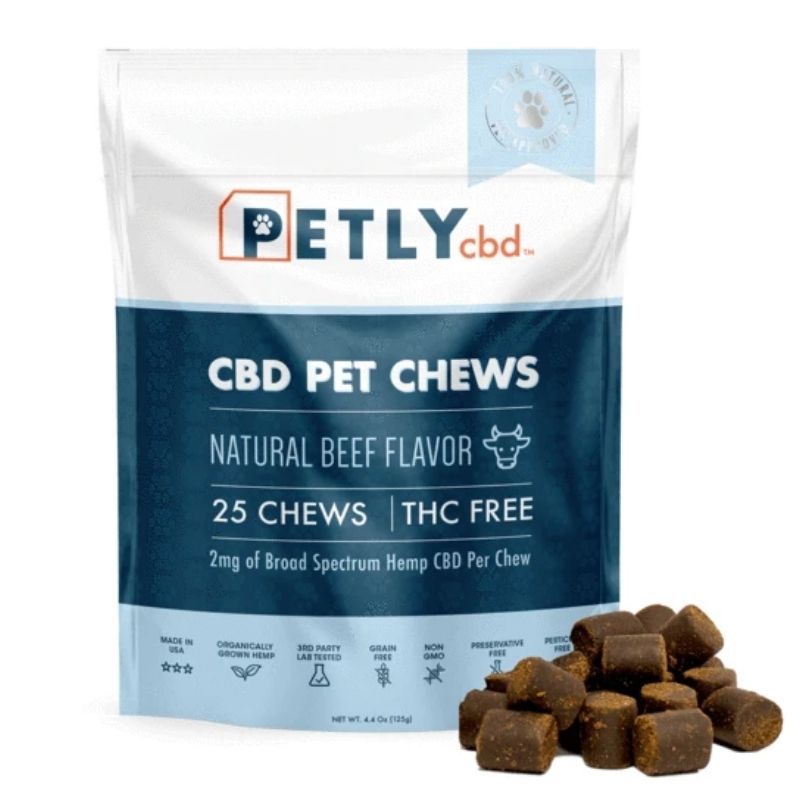 Features
Good cbd oil quality
Money Back Gaurantee
Free Shipping over $75
Great customer service
So for removing the plaque from the teeth of your dog, Petly dog chews can be a good purchase. It contains natural ingredients that not just helps the dog's teeth but also provides added health benefits. Made out of natural blends and makes sure that your dog's teeth are cleaned while the chewing process goes on. 
3. Petly CBD Oil for Cat:
Out of the many CBD oil choices that you have online, this one will be the best for your cat. It is available in varied forms that include capsules and treats. The CBD oil by Petly has completely natural, organic, and certified ingredients. The CBD oil is free from any kind of preservatives and is full-spectrum CBD oil. Petly CBD oil made for cats has also been well tested for potency. 
Hemp Origin:
All of the products by Petly CBD are made from organic hemp and the plant grows in soil that's nutrient-rich. The plant has high terpenes and phytocannabinoids concentration. This makes it very effective in balancing the endocannabinoid system while giving a boost to the immune system. It can therefore be used for the treatment of many physiological and physical disorders. 
When the hemp plant gets harvested by using the best farming practices, it goes through the process of milling. Then this hemp powder makes the base of a final extract of CBD and contains high terpenes and cannabinoid concentration. 
Must Read: ProDentim Review: Does It Work?
Quality Standard:
For complying with the strict quality and the legal industrial standards, the manufacturing procedure of Petly CBD includes removing the smallest THC traces from the final product. Intensive technology is used for removing unwanted elements and heavy metals that might be present in the CBD oil. This makes sure that the final oil has the best extract that's safe, effective, and legal. 
Before the product gets released from the warehouse company, there are third-party lab tests done for making sure that there isn't the presence of any harmful chemicals. 
Extraction Methods:
After the hemp plant gets milled, it goes through the best extraction procedure that results in an oil that also contains CBG, CBC, CBN apart from CBD. The process of ethanol extraction makes sure that the final extract is very pure and clean and there are no harmful chemicals and heavy metals. When the oil gets extracted it is distilled for separating ethanol and hemp extracts.
Read More: Why Is CBD So Expensive?
Petly CBD Shipping Policy:
All of the products by Petly CBD are shipped by US Postal services. Once your payment is processed the order gets usually shipped in 24 hours. The customers can also choose two methods for shipment: Priority and First Class-. These are orders that get delivered in 3 days and 2 days respectively. 
Right now, Petly CBD doesn't ship products internationally. 
Refund Policy and Customer Service:
Not only the brand offers quality products, but the customer service is also usually the best you will find. You can talk to them by email, phone, or through the official website. 
What Customers Say?
There are several customer reviews you can go through that are well satisfied. Petly CBD has been able to make its name by offering the customers high-quality products. They have made products that are formulated specifically for your pets and with good quality ingredients and expertise of years. 
Perhaps the main objective of the brand is staying ahead of the competition and they achieve this by offering a commitment to pet health beyond their CBD business. For every product that you buy, Petly CBD also donates a dollar to the organizations and causes that assist pets across the US. 
Why Choose Petly CBD?
1. It Offers Product That Contains Only Organic Ingredients:
The hemp that they use comes from Colorado. The farmers operate under strict guidelines and make use of organic practices.
2. Processing of Raw Hemp:
The raw hemp is dried and stored in the warehouse after being harvested. Then at the time of production, the plant is milled for making a coarse powder. The process of milling gets adhered to with the high standards of quality and as per the industrial norms. After processing, the product gets shipped to the Colorado manufacturing facility.
3. Lab Tests:
All of the production is tested for potency and quality. This assures all the terpenes, cannabinoids, phytonutrients and essential fatty acids are present. Each batch moves forward through strict testing at their laboratory. If the batch passes, there is a certificate for quality assurance and analysis given that is also available for the customers. There is also a monthly third-party lab test done that verifies our certification. And the good news is, that till now none of the batches has failed in meeting the industrial standards.
For customers, this means that you will be able to get the same benefits as what any other customer must have experienced till now. This is surely one reason for you to celebrate. 
Petly CBD faqs:
Are CBD products from Petly free of THC?
Yes!! There is no THC present in CBD oil that you buy from the brand. There are also different lab tests done and the reports can be accessed by the customers for complete assurance.
Do their products work?
Yes. All of the broad-spectrum CBD that Petly uses is well backed-up by research and very safe for pets. You can certainly try managing the dosage and its always recommended that you start with the lowest strength of CBD oil.
Pros and Cons of Petly CBD:
Here are some benefits and slight disappointments that we found with the brand:
Pros:
Their complete focus is on Pets.

The hemp used is organic.

CBD oil is well blended with coconut oil that has additional health benefits.

They have monthly third party lab testing done.
Cons:
You will have to put in an effort and experiment with the amount. 
Read More: Green Gorilla CBD Review 2021: Should You Buy It?
Conclusion:
Quality extraction methods and hemp make Petly CBD one of the best manufacturers of CBD products for animals. They have been able to maintain the consistency and quality for years now. The company also aspires to go ahead of just making profits and works for the welfare of the pets across the country by donating some profit with each purchase that anyone makes. 
The CBD products by the brand will be effective in offering overall health benefits to your pet and also give relief from many disease symptoms. The packaging is pet-proof and the bottle has been made from high-quality sturdy material. So Petly CBD is a highly recommended brand from us and has been able to earn some great feedback from pet owners.