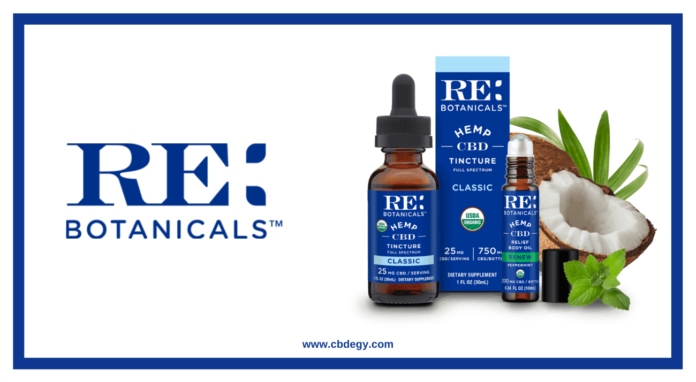 RE botanicals is a Colorado-based CBD company. It is a brainchild of an immensely talented entrepreneur, writer and environmentalist named John W, Roulac. Roulac's vision has always been to deliver high-quality CBD products that are purely organic and free from any synthetic additives or catalysers.
RE Botanicals had its inception in the year 2018. Ever since the inception, the company has the vision to make its customers and planet earth free from any synthetic CBD products.
More about RE Botanicals and Roulac
RE Botanicals is not the first company belonging to Roulac that aims at creating and selling organic products. Roulac is credited with founding Nutiva, which is an organic superfood brand. Nutiva has grown exponentially over the years since its inception. The Inc Magazine credited Nutiva as 'one of America's fastest-growing companies for seven consecutive years. Nutiva sells hemp-based organic products.
Of many other hobbies, regenerative farming is Roulac's most favourite hobby. He continuously strives to make the planet free of chemicals and toxins by incorporating organic farming methods and organic ingredients in his company's products. Not much is known about Roulac's teammates. It is believed that he does most of the tasks single-handedly.
Must Read: Unbiased Alpilean Review For Weight Loss Pills
What makes RE Botanicals stand out?
The products from RE Botanicals have a 'USDA Organic' seal on their packets. The USDA Organic seal is a certified organic seal that indicates that the package contains edibles that are 95% (or more) organic. The measure does not include water and salt presence.
All the packets have an ingredient list that lists out the names of all the organic ingredients used. To put it in a nutshell, RE Botanicals sells products that are free of any synthetic additives, including dyes, colouring agents, artificial colours, preservatives, chemical fertilizers and pesticides and is certified for the same.
Roulac also believes in giving back to society. Besides his love and passion for regenerative organic farming, Roulac contributes about 1% of its sales to farmers who have undertaken regenerative organic farming.
RE Botanicals allows third-party labs to test and prove its authenticity. Labs have certified that the products of RE Botanicals have CBD and THC in precise and accurate measures.
Time and again, the tests and lab results have proven that there are zero per cent contaminants in the products of RE Botanicals.
The products of RE Botanicals are affordable and trustworthy to their customers. It means that customers get excellent and high-quality organic products at relatively low costs than most other CBD companies.
Since the company is certified organic and has the USDA organic seal, its effects are priced between $0.03 to $0.10 per mg of CBD product. On the other hand, most CBD companies today do not have the USDA organic seal and have an expensive price range of $0.05 to $0.15 per mg of CBD product.
Quality over quantity
RE Botanicals has been serving customers with organic products for quite a while. It offers a wide range of CBD rollers, CBD capsules and CBD tinctures. A news portal reached out to RE Botanicals recently and enquired if they are looking to expand their variety of products.
To this, RE Botanicals sent out an email stating that they always look forward to serving their customers with more high-quality products. They have plans of expanding their product line and are working towards achieving it. They have set some long-term goals and are working hard to achieve them.
This shows the mindset of the team behind RE Botanical's success. It is a customer-centric and customer-driven company, unlike most of its peers. It has given importance to customer health and customer satisfaction by producing a limited range of products. It has adequately tested the ingredients and verified their properties before incorporating them in the making of the product. It only explains that RE Botanicals believes in 'quality over quantity.' It does not compromise on the quality to meet to incur capital success.
RE Botanicals is also certified by The Detox Project. The Detox Project is a certification that states that the products are free of glyphosate residue. The carrier oil used in the products of RE Botanicals is MCT Oil. It is derived from the organic cultivation of coconuts. The solvents used in the development of the products are organic as well. All in all, the products of RE Botanicals are USDA certified. The products are free of any contaminants for toxicity.
Must Read: Best Canna Blast CBD Oil Review
From Where Does RE Botanicals Derive Its Hemp?
RE Botanicals incorporates regenerative and organic farming methods to cultivate hemp. The first two letters in its name signify the same. Being a Colorado-based company, RE Botanicals grew its hemp in Colorado.
However, in recent times, it has moved its base from Colorado to South Carolina. The South Carolina Department of Agriculture periodically regulates the farm owned by RE Botanicals. It ensures that all the practices involved in cultivation abide by USDA farming rules and regulations. It is under the '2019 Industrial Hemp Research Pilot Program."
Range of products
Currently, RE Botanicals offers only four varieties of CBD products — body oil, capsules, CBD tinctures and CBD products for pets. It is looking to expand its product line by developing vape products, beverages, lotions, creams, bath variants and edibles.
Customers can choose from two flavours — the classic flavour or the peppermint flavour. The classic flavour has an earthy taste, while the peppermint flavour will require efforts to be swallowed.
Famous Products Of RE Botanicals
Some of the famous and must-try products of RE Botanicals include Hemp 25 mg peppermint tincture, extra-strength relief body oil in lavender flavour, Hemp 50 mg classic tincture and the hemp 15 mg classic capsules. All the products sold are full-spectrum CBD only. The method of extraction is organic alcohol.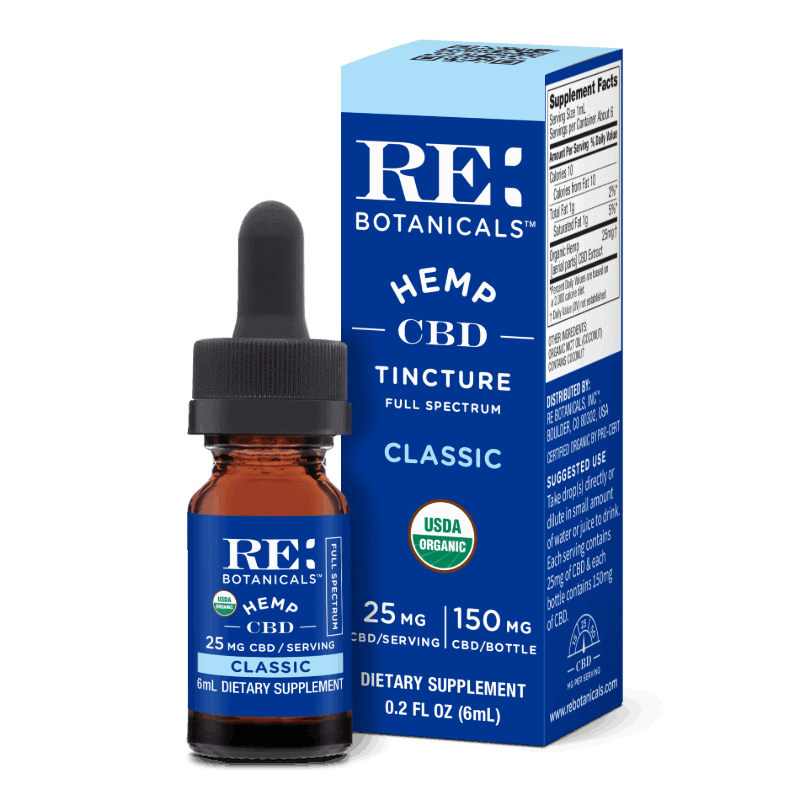 Features
Good cbd oil quality
Tasty edibles
Shipping Options
Great customer service
CBD Concentration per Serving
A 30 ml bottle of RE Botanicals Hemp classic tincture consists of 750 mg or 1500 mg of CBD. The values are, however, approximate. The exact measurements may vary.
Discounts You Can Vouch For:
As a RE Botanical customer, you can avail of 10% off on all their product ranges upon signing up with a valid email ID.
Veterans and senior citizens above the age of 65 are in for a treat. They are entitled to 15% off on their order.
Although, RE Botanicals does not allow or sell products for tasting.
Seamless Shopping Experience
On navigating to the official website of RE Botanicals, you can find all their products listed. Navigate to the "shop" tab, and you will find the categories under which the variants are listed. Moreover, information regarding the contents of each product is also listed. You will find the pictures of the product, the star ratings, and the amount of CBD in each serving.
Just like you shop on any other e-commerce site, you can add products to your cart before checkout. You will have an option to check out by either signing in or simply creating an account. Alternatively, RE Botanicals also allows you to make purchases as a guest without any email registration.
Lastly, you will have to provide the billing and the shipping addresses and make the payment through the gateway by giving your credit card details.
You can also run a thorough check of certified lab test reports. The website has a separate section that lists down third-party labs' claims along with the test reports they have generated. You can access them directly on the website or use the QR code.
Must Read: Why Is CBD So Expensive?
RE Botanicals and Mother Earth
RE Botanicals has implemented regenerative farming methods. Not only is this useful for all the customers of RE Botanicals, but it has tons of advantages when it comes to nature. Their regenerative farming methods increase the biodiversity of the soil. Fatal disasters such as soil erosion are prevented. The topsoil, whose erosion is responsible for most soils related disasters, is protected and kept intact.
Moreover, water is conserved effectively. Such methods essentially help in the prevention of climate change. They help in developing a healthy ecosystem.
The Pros and Cons Of Associating With RE Botanicals
As a customer, the first thing you would do before buying a product is running a background check on the company and its authenticity. A list of pros and cons is given below to help you understand and determine if RE Botanicals is the right company for you or not.
Pros:
1. The Expertise:
At RE Botanicals, there is a team lead by Roulac that has been in the industry for quite a while. The individuals know what they are doing, and they know how to do it better. Roulac has years of experience in regenerative farming. He has an accurate sense of right and wrong when it comes to developing organic products.
2. Giving Back To Society:
RE Botanicals has made its mark successfully. Although it has tasted great success, it believes in being humble and generous. The success of RE Botanicals is a result of intensive regenerative and organic farming practices. To give back to its humble beginnings, RE Botanical donates 1% of its sales to farmers and educates them about regenerative practices and organic cultivation.
3. USDA Certification:
As mentioned earlier, the products sold under RE Botanicals' banner are USDA certified. The oil, the solvent and every other ingredient that you name are organically cultivated.
4. Hemp Cultivation:
RE Botanicals cultivates hemp by implementing organic and regenerative farming methods, unlike most of its peers in the field.
5. Cash-back:
RE Botanicals values its customers the most. It puts in efforts day-in and day-out to give them the best. It vouches for its products being free of toxins and harmful contaminants. However, even after all the regulations, if any of its customers are not satisfied with its quality, they can always file for a cash back within thirty days.
6. Genuine:
RE Botanicals is true to its claims of being purely organic. Several third-party labs have tested RE Botanicals for its claims, and the results have only proven how genuine the company is.
7. Best Customer Service:
The customer service makes sure that your experience with the company is seamless. They are always ready to help you before, while and after completing the purchases. They are friendly and more than helpful to solve your queries. The products are cost-effective and free of toxins.
The customer service is excellent. The company's operations range from 8 am to 6 pm from Mondays to Fridays (MST). Alternatively, you can drop them an email. The estimated time for response is about 24 hours.
8. Amazing Website:
RE Botanicals has an excellent website that is pretty straightforward and puts across all the facts to make it feasible. It details relevant matters such as cultivation practices, product information, ingredients used and everything else necessary for a customer to know to make an informed decision.
The website is easy to navigate and is user friendly. Placing an order and getting it shipped is exceptionally seamless. The shipping time is pretty reasonable, and they have a super supportive customer service that serves the necessary information for all your queries.
9. Shipping and Refund Policy:
Currently, RE Botanicals ships only within the US. The delivery time of RE Botanicals is about 4 to 5 business days. A thirty-day refund policy is applicable on all orders.
Read More: The Pros And Cons Of Hemp Oil
Cons:
1. Need For A Better Range:
RE Botanicals has a limited product line as of now. Although, sources confirm that it is working on expanding its chain of supply.
2. Lack of immediate response:
Although RE Botanicals' website is easy to navigate, it lacks a 'live chat' option. It may serve to be a drawback if the company is aiming to expand its products to the international market.
Final Thoughts on RE Botanicals
To put it across precisely, RE Botanicals is committed to delivering high-quality products. It focuses on customers and planet Earth, which is a rare combination, given today's industry standards. The founder is highly appreciated and trusted for his twenty years of experience in hemp products and super food manufacturing services.
He effectively cultivates his creations. The THC range of the products he produces is non-traceable. MCT oil and hemp seed oil are the two primary oil carriers that RE Botanicals uses.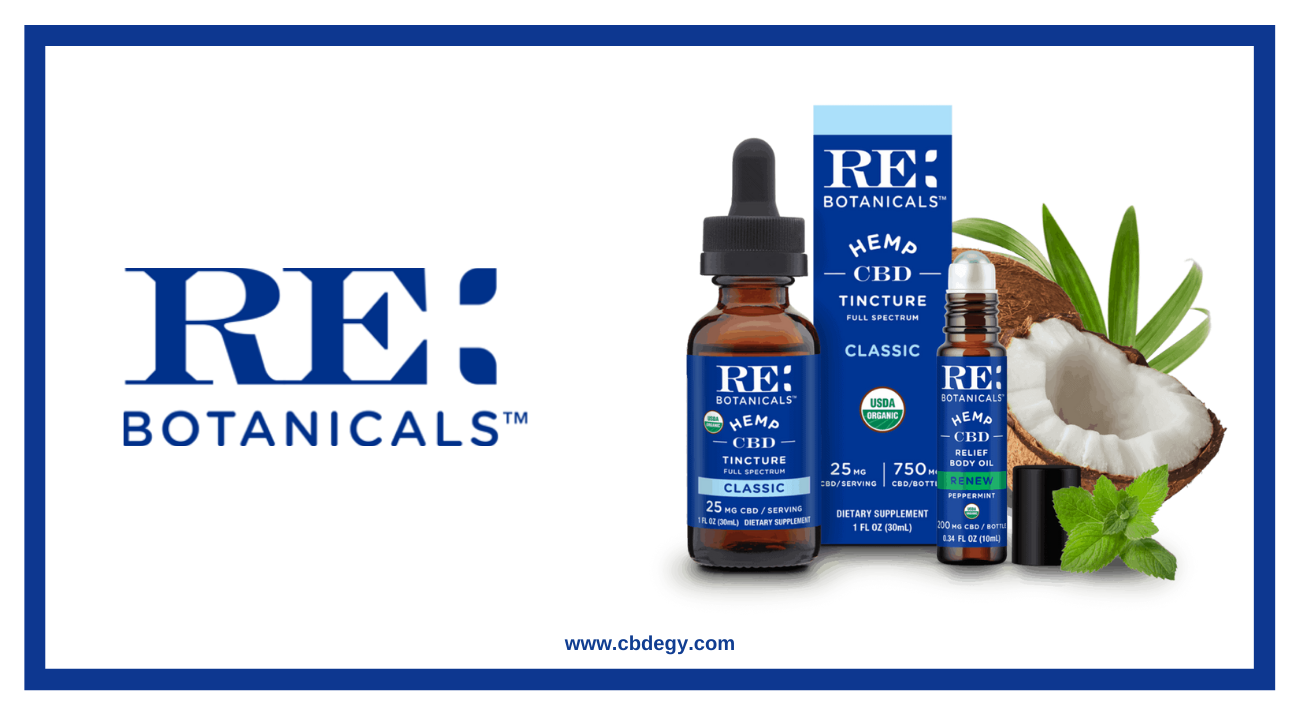 Features
Good cbd oil quality
Tasty edibles
Shipping Options
Great customer service