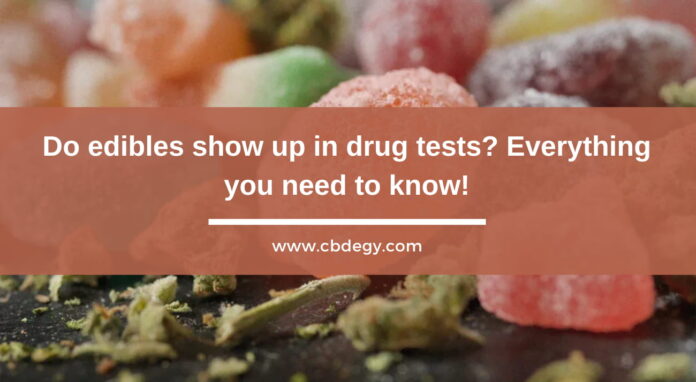 People who consume edibles that contain Marijuana are often concerned about its effects and trace. But the subject is quite controversial, and people often search on the internet do edibles show up in drug tests. Though the question is pretty simple, the answer is tricky if you know nothing about edibles or Marijuana.
What are Edibles?
Edibles are technically an accessible name for those products that contain cannabinoids. The practice of Marijuana or cannabinoids is ancient. And earlier, people used it for intoxication. But in recent years, multiple studies have shown that weed is highly beneficial for different health conditions. And since then, many people have been practicing different methods to consume cannabinoids.
What is the difference between traditional and modern methods?
Weed is pretty popular in every culture around the world. But consumption of weed is not legal in every country. Now earlier, people used to consume vape weed flowers or leaves. But right now, different products contain the exact amount of THC.
THC is the primary chemical compound in cannabinoids, giving us all the benefits and high. Traditional methods did not allow people to measure the amount of THC. But the recent companies that produce hemp-derived THC-oriented products crucially measure the amount, so we do not get affected by them.
Must Read: How Many CBD Edibles Can you Eat?
How many types of edibles are there?
There are almost ten types of edibles currently available on the market. They contain the same types of cannabinoids that have less than 0.3% of THC. Here are the most common cannabinoid edibles.
Cookies
Brownies.
Chocolate.
Vapes.
Gummies.
Candies.
Lozenges.
Drops.
Concentrated Cannabinoids.
Beverages like drinks, syrups, mixtures, and fruit punch are also on the list.
All these edibles are available in different flavours and provide the same results.
Now let's understand the main question- "do edibles show up in drug tests?" And if they do, then how to escape the situation?
Do Edibles Show Up in Drug Tests?
If you are looking for the question, "do edibles show up in drug tests?" then here is the direct answer- Yes! It will show up on the drug test. But the answer is not so short. When you vape Marijuana, it mixes with your blood directly with the oxygen you take. On the other hand, when you consume any form of edibles, you go through your digestive system. And the process of kick-in will start after your digestive system absorbs the THC in the edibles. So, the drug stays in your system for a long time.
Drug Test Detention Time
I am sure many of you are concerned and looking for answers to "do edibles show up in drug test pee?". And you will be sad to know that pee is the most common and reliable body waste that can tell you if you are consuming Marijuana or not. Here we have provided a list that will tell you which drug screening will detect the trace of Marijuana in how many days.
The sample of Marijuana drug can stay in your body for a long time. And it can show up in the Urine test within 3 to 30 days after consumption.
In saliva, the THC will last 1 to 3 days after consumption.
Hair can also carry the trace of Marijuana. And it holds the trace for 90 days.
The drug screening can detect a trace of THC in the blood within 3 to 4 days.
However, the detection result varies depending on your consumed edibles. It also varied on how many times you consumed them before the test.
How long does weed stay in your system?
Now you may be wondering about the weed puff: how long does weed stay in your system? Well, the entire situation depends on a few factors. Like how many times do you use the weeds? Or how does your body metabolise the drugs?
BMI, or Body mass index, is directly linked with the trace. Body fat can hold a trace of THC for a long time. It means if you are overweight, there is more possibility that the drug test will detect the weed.
Now, a woman's body tends to hold the trace for more time than the male body. It is because the female body has more BMI than the male body. And unfortunately, the metabolic rate of THC in women's bodies is relatively slow.
Many people have higher metabolic rates; on the other hand, many people cannot even resist the smell of weeds. Now metabolism power can control the time of weed detection.
Suppose you have consumed weed once in the last week, and your friend has been consuming the weed for several days. Now, after one week, if you two go through drug screening, then the trace of THC will show in your friend's body only. The drug screening report can change depending on how frequently a person consumes the weeds.
There is no doubt that the quality of Cannabis is higher, the more robust the level of THC is. Now technically, a human body can resist 0.3% of THC. And if the product you consume contains nearly 0.3% THC, the trace will stay in your body for a long time.
This factor is probably the most crucial of all. If you puff the weed, it will stay only for three days. But if you use other edibles like cookies, beverages or gummies, the trace can stay in your body for a little longer.
Must Read: Can Edibles Damage the Liver?
How long does edible stay in your system?
Now, if you consume the cannabinoids edible regularly, then you need to know- "how long does edible stay in your system?". If you consume edibles, it takes more time to show you the result. Because the edible will go through your digestive system and kick in after 60 to 90 minutes. And the trace of the product can stay in your system for three to 12 days. And people who have consumed edibles for a long time will indeed show in the test.
How long does THC stay in the system?
The questions "do edibles show up in drug tests?" and "how long does thc stay in system?" have the same answer. Well, cannabinoids, weed, Marijuana or any edibles contain THC, and it is the THC that stays in your blood. So technically, the Trace of THC stays there for 3 to 5 days if you take the puff. But if you consume the edibles, they will stay there for 3 to 12 days. And if you consume the product regularly, it will stay in your system forever.
How long does Marijuana stay in urine?
Now, if you are going for a drug test and thinking, "how long does marijuana stay in urine?" Well, if you consume Marijuana daily, it will stay in your urine for ten to fifteen days after the last consumption. If you do not consume Marijuana frequently, then the trace will remain in your urine for five to seven days after the last day of ingestion.
Now luckily, if you consume it once and probably for the first time, THC will remove from your body within one to three days. However, the effect of Marijuana will last only 2 to 3 hours after consumption. Now, if you are thinking, how long does weed stay in your body? Then let me tell you that weed and Marijuana are the same things. So indeed, they will react the same way.
Does Marijuana promote addiction?
You have probably consumed Marijuana or Cannabis or weeds for a long time. And now you are concerned, "do edibles show up in drug tests?" then you are probably under the effect of Marijuana for sure. If you use Marijuana constantly, no matter what form you are using, it will promote addiction. And if you do not control the urge, it can give you multiple side effects.
What are the side effects of Marijuana?
Though limited consumption of Marijuana can provide multiple benefits, it can provide you with multiple nutrients like vitamin-B complex, C, E. CBD is the best source of Vitamin B complex for vegan people. Hemp contains more than ten nutrients, including calcium, iron, magnesium, potassium, etc. These nutrients provide strength to muscles, bones, and nerve cells and help fight stress and anxiety.
Even people suffering from pain due to chemotherapy can benefit from limited consumption of CBD and hemp. But for that, you have to consume only a limited amount of THC contained product. Besides, if you are concerned about the question, "do edibles show up in drug tests?" then it is better to consume these products within limits.
What happens if your drug test finds a trace of THC?
Though different studies from the US government declare that Marijuana or weed or cannabinoid leaves have potential benefits for human and animal health, not all state has legalised it. And consumption of these products is still illegal in those places.
So, if you consume Cannabis pretty often and travel a lot, you better know the genuine answer to the question, "do edibles show up in drug tests?". It will help you with any drug test regarding THC. Again, if you are an athlete, you should practice the consumption within limits.
Who can consume Cannabis?
Cannabinoid leaves, Marijuana, weed, or any product that contains THC are not for everyone. If you are not 21 yet, you are not legally appropriate for consumption. It will harm not only your physical but also your mental state.
Again, if you are a pregnant or lactating mother, you are not allowed to consume the gummies. Again, you should not consume the product if you are suffering from major health issues and going through medication that promotes drowsiness.
It is more important to avoid consumption if you are someone from the categories mentioned above. Do you know how reducing consumption is more important than knowing whether edibles appear in drug tests? In our suggestion, if you are used to cannabinoids, you should take the experts' suggestion to quit the consumption.
Must Read: What are Alpilean Weight Loss pills?
What types of Cannabinoid product is beneficial for you?
If you are allowed to consume THC-oriented products, then consume something with the goodness of CBD or Hemp along with other natural ingredients. Most of these products contain less than 0.3% THC and do not promote addiction. However, it is better to consume them under a physician's supervision.
Final Word
Now, no matter what the reason is or why you want to know, "do edibles show up in drug tests?" make sure you have a good reason to consume THC. Though THC is relatively safer than cigarettes and alcohol, it can also cause addiction. But because it provides multiple health benefits, limited consumption can help you with your current situation.